Welcome...
...new dancers, returning dancers and never-stopped dancers
Square dancing is a great way to have fun, keep active and get connected to people in your community. Clubs across the GTA dance regularly, usually from Sept to May. Watch here for announcements of Open Houses, which usually take place in Sept & Jan. Experienced dancers, watch the calendar and Facebook for invitations to events and dances across the region.
Association News
Our next T&D Joint dances are:

Oct 1, Peterborough Lift Lock & Otonabee Squares flyer
Nov 5, Collingwood Blue Mountain Promenaders flyer
Also, congratulations to the Napanee Pioneers, who are celebrating their 50th anniversary, with a special dance Oct 22
flyer
.
Here are all the dates for the 2016-17
Joint T&D Dances
. Mark your calendars.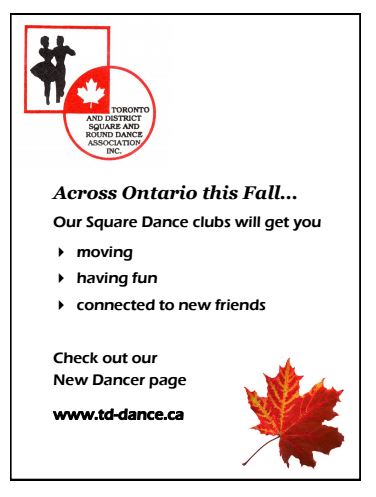 For a copy of this handbill to print and distribute in your area, click here